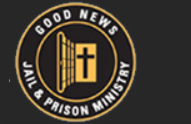 Baylake UMC partners with the Good News Jail and Prison Ministry providing spiritual care for those who are incarcerated. Hearing the good news of God's love is often transformative for this population. We are dedicated to serving and providing hope to people in this time of need.
Good News Chaplains are sharing the Gospel of Jesus Christ around the world – in 25 countries and 22 states in the US. It is a response of faith in the Person at the center of that "good news" that saves – as God opens the eyes and minds of those who need a savior and introduces them to the person of Jesus Christ. In that moment, the moment of truth, when a person who is lost discovers that there is a way…..there is truth….and there is life…..Christ enters their life and transfers them from the kingdom of darkness to "the kingdom of His beloved Son" (Col. 1:13).
This is the most transforming message on the planet and it is our mission to share it each and every day in some of the spiritually darkest places in the world. But to share the Light of Christ and to shine His grace upon those who desperately need Him is the greatest privilege in the universe.
As you think about your community, recognize that 1 in 35 adults around you will or have spent time incarcerated or under supervision of the correctional system. So when you enter the restaurant, you meet them unknowingly. When you go the store, they are all around you. The number of incarcerated and former incarcerated is increasing. But the overcrowding of jails and prisons is forcing them back into the streets – ready or not. There are high quality corrections officials working to introduce opportunities for change to men, women and children behind bars.
Our chaplains are working with them to bring the most powerful change agent available – the knowledge of Christ. It's our calling. And it's our challenge to equip inmates to become your neighbors. Almost 95% of those now incarcerated will one day be released! What kind of neighbors would you like returning to your community?
Our team leader for this project is Bob Briner and can be reached at
bobbriner@cox.net
.