Click on the Praying Hands to send a prayer request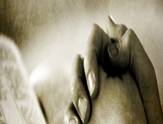 The Bible tells us do not be anxious about anything, but in every situation, by prayer and petition, with thanksgiving, present your requests to God. And, the peace of God, which transcends all understanding, will guard your hearts and your minds in Christ Jesus (Philippians 4:6-7). At Baylake UMC, we believe in the power of prayer and have seen it answered again and again so we are a congregation that prays! We have accepted the challenge from our Bishop to be a praying congregation so a significant number of us committed to being in prayer or some form of spiritual practice for one-hour a day.
Our prayer team is led by Janet Baker who has been blessed by God with the gift of prayer. She and her team will pray vigilantly for your concern, while respecting your privacy and confidentiality, and consider it a blessing to pray for you!