Once Baylake UMC realized that many children in our community at nearby by Bayside Elementary School qualify for free or reduced lunch expense during the weekdays, but are often hungry on the weekends, we went into action to help these children and families in need. The goal was to make this an ongoing project to ensure that children in our community had proper food and nutrition to learn and grow, and we did!
Baylake UMC was recently recognized by the Virginia Beach School System for its dedication and support of the Backpack Food Distribution program designed to provide meals to elementary age children on the weekends. At Baylake, we call the program Beach Bags given our location and close proximity to the beach. For many years, dedicated volunteers of the church have lovely packed 70 bags of food a week to support children in the Virginia Beach Public School System.
Brown bags are filled with food that is child-friendly, non-perishable, and easily consumed. The bags are discreetly distributed to children on the last day before the weekend or holiday vacation by placing them into their backpacks for transport to their homes. Children receiving the food are identified by school personnel as being food insecure by a variety of criteria.
In order to support this outreach program, we need people willing to volunteer to pack the bags, as well as donate food. And, of course, monetary donations are always welcome! The items we need donated include: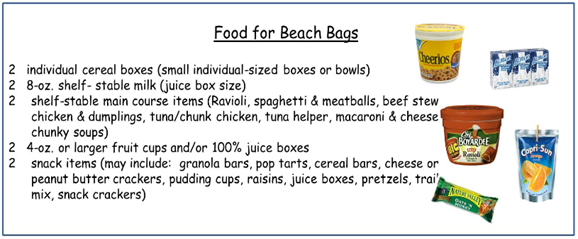 Jeff and Patti Waller (757-460-2712) are our project coordinators and would love to have you join the team!